View high resolution
Let us take a moment to bask in the glory of Horuss Zahhak. (… and his horse dick. I mean work of art.)

Horuss, of course, starts all his lines with that completely innocent 8=D symbol. What do you mean it's something vulgar? I don't know what you're talking about. Moving on! He capitalizes and punctuates everything, unlike most of the other characters. He exchanges x with %. When he says something innapropriate (which he always immediately apologizes for), he replaces one of the vowels with *. For example, at one point he says "t*tillating."
He also makes plenty of horse puns, far more than Equius. Meenah is Your Hayness/Horseness/Harness, main becomes mane, resorting becomes resnorting, who becomes whoof, can't becomes canter, etc. You can also pun whole phrases - like "reign in your actions," "I'll trot out a new idea," "It's a rodeo out there."
Horuss is a curious character because he manufactured his entire character. When he was growing up, he felt like he had a void inside himself. He didn't think there was anything interesting about him. So, he chose a bunch of his hobbies, built them up, and shoveled them into the void, until he finally thought he was complex enough to be interesting.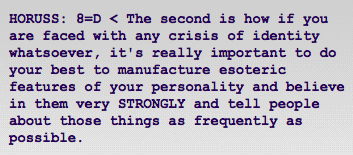 When you're rping Horuss, you should mention the glorious beauty of musclebeasts, your own overwhelming musculature and STRENGTH, any recent inventions, or your love for Rufioh as often as possible. How else will other people know that you have these interests? It's best to just talk about them all the time.

Interestingly enough, Horuss did find some characteristics in himself that were natural and unforced. Then, he attributed all of them to being otherkin.  He would prefer to think of himself as a host to other beings with those traits, than to think that those traits were unique to him. I'm not hating on him! Just… observing.
So, you can try to mention those affinities with planets/spirits/horses in conversations. That's what he's doing in the first quote I put in this post - "channeling an ancient soul from Alternasia." Of course Horuss' main affinity is with the grand musclebeast. We all know of the time that Horuss showed up in a horse kigurumi and told Porrim "I am literally a majestic stallion." He probably wears his hair in a ponytail just to have it look like a… well… a pony's tail.
Just like Equius, Horuss is very focused on the hemospectrum. He is extremely respectful to Meenah, and would probably be just as respectful to Kurloz, Gamzee, Feferi, )(IC, etc. On the other hand, he says some pretty mean stuff about the lowbloods.

He never expected to fall in romantic alignments with lowbloods like Rufioh and Meulin. He says that Rufioh was just going to be a fling, a little dip into the forbidden blood, until it somehow exploded into a full-blown romance. He never even considered Meulin until he saw how well Equius and Nepeta were getting along. Now, he's very happy with both of those quadrants. He waxes poetic about Rufioh constantly, saying that Rufioh "took his breath away," and he fell "mane over hoofs" for him. He completely disregards when Rufioh tries to break up with him.
I hope you come across a Rufioh on MSPARP. You could get some really nice, awkward conversations out of that.
Speaking of the hemospectrum: It is not a kink for him. I initially thought blood color was a kink for the Zahhaks, and so does most of the fandom, but it really isn't. Sure, he was interested in Rufioh because of his blood, but it wasn't a sexual attraction. He desperately doesn't want Meenah to misunderstand him as a pervert.

This is just one of my pet peeves, but try not to play him as some kind of blood-color-obsessed-perv. He does not jack off to the idea of lowbloods. He has more of a… curiosity with lowbloods as something that he knows is forbidden to him by society. (He probably does jack off to the idea of musclebeasts.)
Back on the topic of his quadrants, Meulin is the one who encouraged him to be happy and chipper all the time. He is actually not comfortable at all with his permanent smile.

If you are given the chance to drop the happy facade, go for it! When Meenah ordered him to drop the 8=D, he returned to his normal, grumpy attitude.
(And that wasn't the only smiley he used - feel free to use any grumpy Japanese emoticon you have.)
The 8=D face is not the only time that Horuss is unintentionally sexual. He quite often says things that sound crude. Feel free to drop all kinds of innuendos.


Basically, have fun! Horuss is a big, sweaty mess, and although he takes himself extremely seriously, he ends up being hilarious.